[Service +][CEO Report] CEO of Arbeon Carlton Myung's Immersive Social Media Set to Dazzle the World
[CEO Report] CEO of Arbeon Carlton Myung's
Immersive Social Media Set to Dazzle the World !
- Arbeon, an AR social media that communicates via daily objects and spaces
- Partnerships with various companies to enhance the content in the app
- Official app release in the 4th quarter of 2022, Expects to open a booth in the upcoming CES in January.
You use an app to scan a plate of food that just got served. The actual reviews of previous customers, photos of sweet couples, words of gratitude by the chef, and a recommendation list of the wine that goes well with your food pop up. You scan a bag from a luxury brand displayed in a department store, and right there above it, you see the product information, the brand's advertisement and promotions, and the whole recommendation list of similar products and secondhand prices. You click the one with the lowest price in the list and buy it on site.
This is not a story you see in films. It's actually your future, a very near one, that will be made available after the release of the app service of the IT startup "Arbeon.". For this session, we met with Carlton Myoung, the CEO of Arbeon, a company that creates reality-based immersive social media that's wholly different from virtual ones.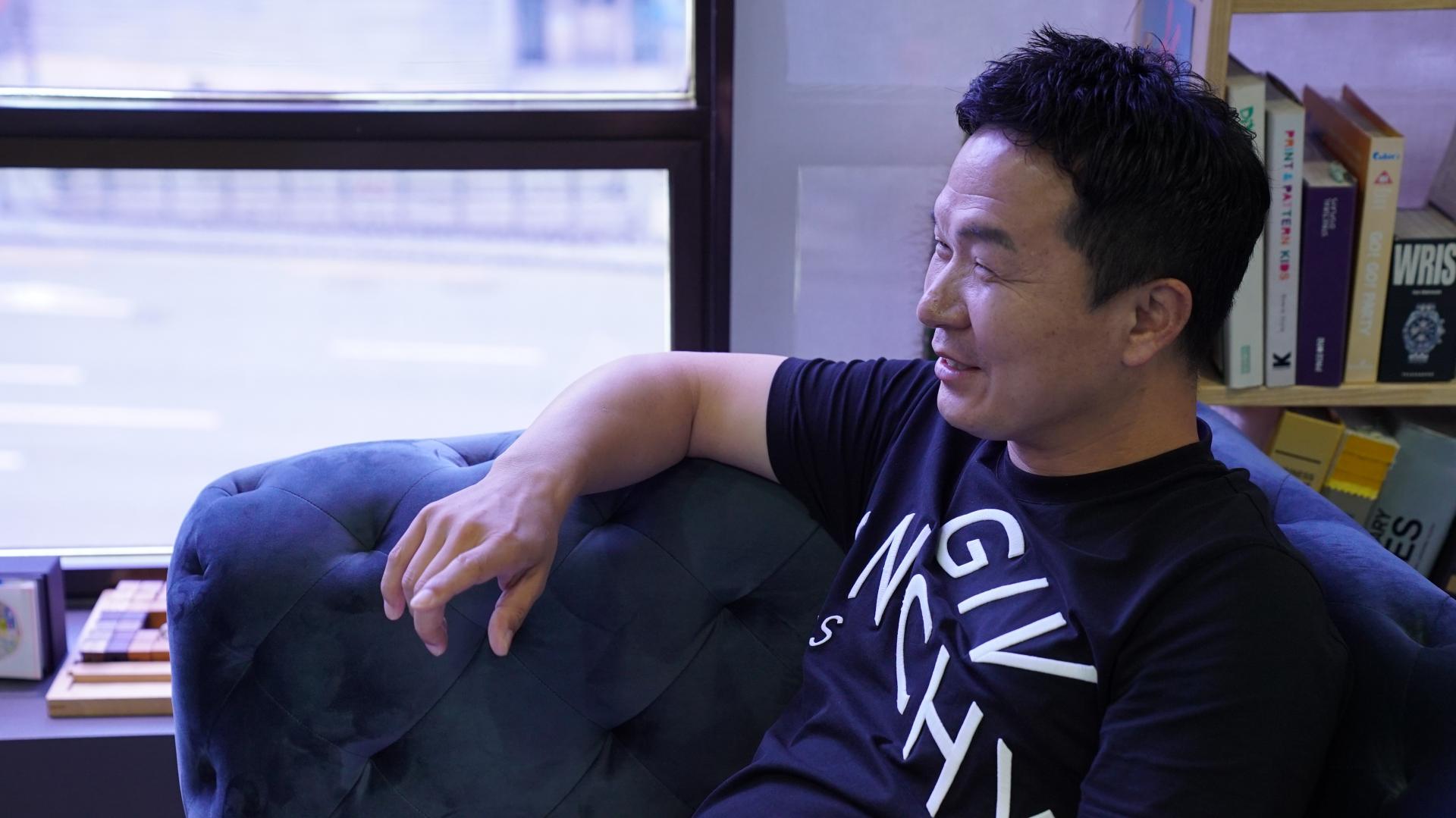 ▶ You majored in Western Art. That's an odd major for an AR planner.
You're right. I was the artsy senior you see on the school campus (smiles). I've been designing and producing videos with the philosophy of painting I'd learned back in art school, and now, I'm designing the business that fits the times.
I worked in a famous design company in Korea as an animation director in charge of design, and throughout my career, I received a lot of awards I'm grateful for, such as the Korea Animation Award (Ministerial award by the Ministry of Culture, Sports and Tourism) and Visual Arts Festival Grand Prize, etc. Afterward, my career took a turn to be a planner, and I was the CEO of JF Studio for six years, Chief Creative Officer (CCO) in Sigong Media, and Blockchain Director in Medium, which specializes in the blockchain.
▶ Give us an idea of what service Arbeon creates.
Arbeon creates a reality-based AR social media that enables communication in spaces and objects in our daily lives. It's not virtual social media that's trapped inside a computer. Instead, it's an app service that offers its users the AR and metaverse experience with the objects and spaces that sit right in front of them. It's a whole new form of social media as it ensures free communication in connected objects and spaces with the people the users that share the same interest.
▶ The service sounds extremely interesting. What inspired you to come up with it?
I've been planning this business since 2012. AR piqued my interest because it was the only technology that combines reality with digital content to draw out a whole new experience. But the technology and atmosphere back then were highly exclusive to my regret. It could be used only in designated objects under restricted conditions. That's when it dawned on me that I should publicize this technology so that everyone in the world can enjoy this amazing experience. I decided that I should come up with an AR service that overcomes the language and circumstantial limitations and that can be used anywhere right at the moment.
Ever since then, I have consulted and discussed with numerous developers how I can actualize the plan in my head, but all I got back was that it's impossible with the current state of technology. But I begged to differ – the current state of technology was enough, and that personal conviction led me to strenuously and successfully develop a technology that immediately recognizes any object. My ten-year-old imagination materialized into reality.
▶ How do you expect people's daily lives to change via Arbeon?
We believe that the behaviors of users across the globe will be changed once the app is released. Objects will hold much more meaning and value than they ever had. They'll be "places of communication" where various users come to communicate and share their ideas. It will first become a social media that allows users to share their preferences and memories until it grows to become a multi-platform that enables e-commerce, video sharing, and information search on top of the company products.
Countless users and companies will be able to use the AR platform of Arbeon without limitations according to their needs and preferences. Moreover, it will open a metaverse world that reflects the characteristics of each brand, and users can easily and quickly experience the metaverse and NFT. And where? Right in our daily lives.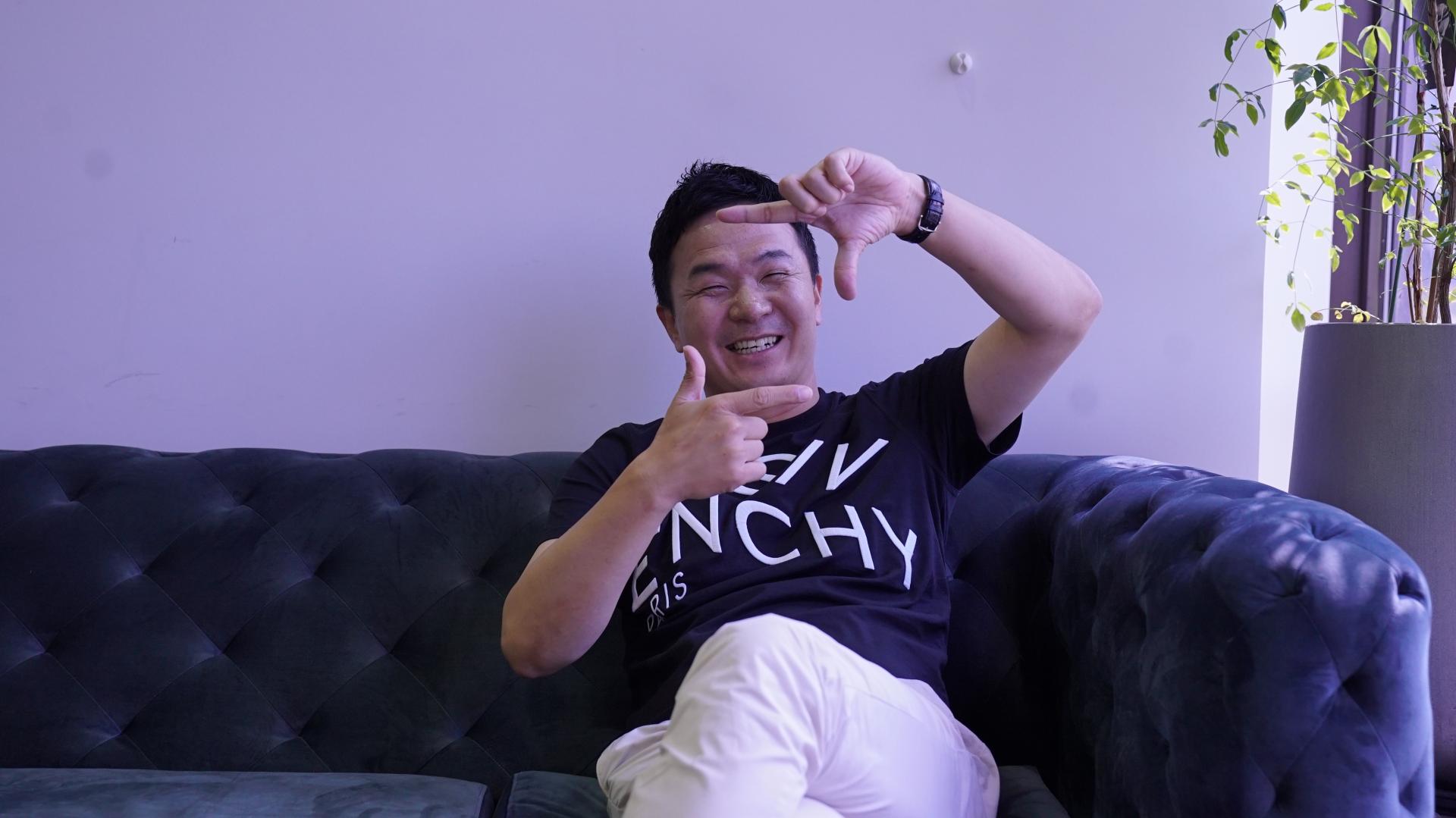 ▶ I heard that your goal is to preoccupy the global market. Is there any special strategy in place?
Arbeon is challenging the very thing that no company in the entire world has ever attempted before. We believe that the service equipped with our unique technology and interesting features can attract not only the users but the companies as well. This has been proven in recent days as we are signing and discussing partnerships with a variety of companies in different fields, including distribution, F&B, entertainment, characters, and domestic and international mobile network carriers. All the companies we've met showed enthusiasm after being introduced to our service, and discussions are underway to provide their users with richer and more varied experiences. We'll showcase a new form of daily life to global users and enchant them with our services.
▶ The AR social media is unique to Arbeon. How is it different from the existing social media?
To tell you the difference in the service-level first, the two are different from the "period of experience." The existing social media lets you enjoy the posts that others have already experienced. Users envy others by looking at their experiences of beautiful places, amazing food, and cool products. But Arbeon allows actual, immersive communication in the very object and space users experience at the moment.
Technology-wise, it's different as well. The "Immediate Recognition" technology of "Merge Ware," the core engine developed by Arbeon's own technology, gives an ID value in a single scan even to unlearned objects. Users then freely leave their AR content. At the same time, scanned objects are recognized as the same objects stored in big data through AR and AI technology and show up the AR content. For example, if a user in Korea scans a red can of coke and leaves an AR content, within less than two seconds, one can check the same content on the red coke can across the globe.
▶ What are the future plans for Arbeon?
The official app release is taking place in the 4th quarter of this year. Following the release, we plan to open a booth at CES in Las Vegas. Preparations are underway for the "global opening ceremony" to leave a strong impression on the visitors as the next-generation, most-advanced social media.
Arbeon began as the AR social media in the early days, but it will be connected to the metaverse world based on Web 3.0 in the future. Users can participate with self-produced avatars in the metaverse that opens above each brand, and they can form communities, purchase digital territories, and even build virtual cities. They'll be able to experience easy and fast metaverse through the brands that they see right in front of their eyes.
▶ Lastly, tell us about the company philosophy unique to Arbeon.
Arbeon's philosophy is "Best Reward." Arbeon service is not something made just by the company but built along with the users. Users are encouraged to be creatively active in the app, and their activities are rewarded accordingly with points that they can use in the app. The philosophy we adhere to is that rewards must be provided to the contributors, which are the users that enjoy our service, business partners that move forward with us, and ArbeeCrew (employees) that enable the operation.
I believe that the digital experiences in the objects and spaces Arbeon provide to global users will transform their behaviors and daily lives, eventually creating a new culture that was never there before. The familiar will be made new, the ordinary will become extraordinary, and the good ones will be improved for the better. Even the littlest things in our daily lives will grow enchanting and attractive. And because our global communication service pioneers a new culture, you can expect a lot from us, Arbeon.
[ Go to the original article : https://news.mtn.co.kr/news-detail/2022061513340050295 ]